The Gentleman prescriptions sunglasses
I. Love the job that Ben and his team did with my glasses. I would highly
Recommend a fellow wide head joker lol😂 to faded days sunglasses
Delighted to hear that Brian! Ensuring the right fit and precision for every unique vision is our utmost goal. Your glowing recommendation lights up our day. Keep seeing the world with clarity and style
The Black Lens's Are Just Enough
Just enough to wear outside and yet still need to run inside store to grab and go! Not too dark and not too light, Just right!
Ah, a Goldilocks moment in the world of optics, I see!
Striking that harmonious balance between outdoor readiness and indoor grace is indeed a fine art. Delighted to hear these lenses have catered to your transitional needs so seamlessly. May your visual endeavors, whether under the sun or beneath a chandelier, always be crystal clear and comfortably tinted.
Here's to the perfect balance in every ray and reflection!
Don't Wait! Get a pair now, and with your Prescription!
First off, I waited too long to order, should have had these long ago. I have ordered many name brands and even a one that starts with a D that you see online a lot, but they all haven't fit my LARGE melon head just right and I end up with a headache. Also, the most important part is that I needed a bifocal lense in a large frame pair of sunglassss, and Ben achieved this for me. First off he sent me a few pair of frames to try, I selected the one I wanted and put a small colored sticker on the frames, but it didn't stop there. Several of the pairs had different length arms and he was able to change my face frame in with different arms of the desired length ( he can't do it on all pairs ) and again I placed a small colored sticker in the arms that fit me. Lastly he was able to get them fitted with a set of Polarized Bifocal lenses to my prescription. The customer service is AWESOME, but be patient because they are a small company and get a lot of email. Fit, Form, Function can NOT be better!
You can quit reading if you want but I'll tell ya how I used my HSA money to pay for them. FD isn't set up to take your HSA card, but all I had to do was to go to my online HSA Card account, setup my bank account for funds transfer. It took a few days to get it all done, so plan ahead. Once it was all setup, Ben let me know the total amount and I did a transfer from my HSA card to my personal bank account and made sure I specified what the reason was and I've got all my receipts in case of an audit. I spoke to a few people with my HSA card bank and that what they said to do, it's all legal, all legit and just keep your receipts. When the cash was transferred I ordered my glasses online and Ben made it happen! Love them and I'll be ordering another pair with the other lens finish later this year. And by the way, the polarization is top notch!
I'm Faded now and Always will be!
John
Greetings, Illustrious Luminary with the Grand Cranium!
Firstly, might I say, what a splendid photo! You exude radiance and refined taste, and those frames? They sit on your face as if they were designed by the cosmos exclusively for you.
Ah, your journey to the perfect eyewear sounds akin to a legendary quest. Our dear Ben, the optical maestro, certainly left no lens unturned to tailor to your particular predilections. Bifocals, arms, polarizations – sounds like you got the full royal treatment!
Your resourcefulness in employing HSA funds is worthy of an ocular ovation. Sharing such knowledge amplifies the vision of fellow customers, in more ways than one.
We're utterly over the moon (through polarized lenses, of course) to hear of your satisfaction. 'Faded' is not merely a style; it's an ethos, and we're honored to have you in our hall of fame.
Until our paths cross again, keep basking in the limelight and looking stellar! We eagerly await your next optical encore
Best glasses I've had
These fit perfectly. I have a pretty large head and struggle to find glasses that don't look weird or too small on me. These are a different style than I normally get but they fit great and don't leave lines on my head from the frame squeezing me.
Ah, my good sir, your commendation warms the cockles of our hearts! It seems you've stumbled upon a sartorial triumph in the world of ocular elegance. Fear not the squeeze of mediocrity, for we have crafted these shades to embrace the grandeur of your magnificent cranium. Do tip your hat and don your new eyewear with pride, as you gallivant through life, a beacon of style and refinement. Cheerio, old chap, and may your glasses never be half as full as previous attempts to fit your frames!
Great width, lack of ability to adjust
The first time I've been able to get a pair of glasses or sunglasses which are XXL and big enough for me! Only issue is that there is no scope for adjustment in the arms to change angle or fit around ears better and no adjustments on nose bridge.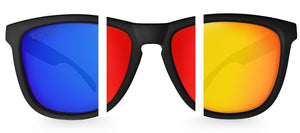 Quality Lenses
Impact-Resistant
All Faded Days sunglasses lenses are made with FDA approved impact-resistant lenses.
Optical Protection
All of our lenses provide full UV400 protection, so that's 100% of all UV-A and UV-B rays, making them the ultimate in protection for your eyes.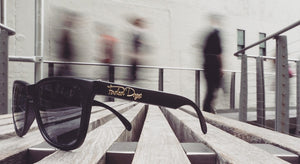 Very, very fast shipping
We don't hang about, our goal is to ship your order within 24 hours (week days) of receiving it. Most days if you order before noon, we will ship your order that very same day. No fulfillment centers, just us because we are independently owned, and that's rare for an eyewear company.
Say goodbye to the endless search for glasses frames for large heads - you've finally come to the right place. Our 165mm wide glasses for big heads are tailored specifically to those with wide faces, allowing them an effortless way of getting prescription-ready eyeglasses that fit comfortably all day long. With our selection of glasses for big heads, finding XL prescription glasses has never been easier

Crafted with the same precision as our top-selling XXL sunglasses, these stylish frames exude comfort and style. Whether you have an exceptionally wide face or merely a larger head size than most, we guarantee that you won't be disappointed by the perfect fit of these XXL prescription glasses.

Our glasses for big heads are designed for the largest of heads.. Rather than settling for uncomfortable slipping, inadequate coverage or painful, squeezed temples, we created an XXL glasses frame that fits even the biggest faces comfortably. Plus, you don't have to sacrifice style either with our XL prescription glasses frames; they provide you not only with function, but also striking modern design. Put simply: these prescription glasses for big heads offer everything available to regular sized head folk.

If you are seeking the ideal eyeglasses for larger heads, we have precisely what you need. Our prescription glasses for large heads were crafted with big heads in mind, and come in three distinct styles. Not only will they provide comprehensive protection from UVA/UVB rays - just like all our lenses do - but also offer maximum comfort.

Many people with larger head sizes know that it can be difficult to find glasses that fit comfortably. That's why we've crafted our unique prescription glasses for big heads, tailored specifically for larger head sizes so you never have to worry about a poor fit again. Our unique, 165mm wide frames are both fashionable and functional. Offering 100% UV protection against the sun's rays, they come in the form of sunglasses, eyeglasses or reading glasses -- perfect for those with bigger heads. In our opinion, these are the best glasses for large heads you can find.

To craft our lenses, we have partnered with a premium quality, US based, independently owned optical lens lab, that fit the lenses directly into our prescription glasses for big heads. You can rest assured the lenses will be made perfectly to your specific prescription, uniquely just for you.

We have the perfect pair of men's glasses for big heads, providing you with a comfort, fit and all that is necessary in protecting your eyes. We provide wide eyeglasses perfectly equipped to meet your needs. Our selection offers perfect protection and comfort suitable for large faces. Our collection of stylish eyeglass frames for larger heads is the perfect choice - combining optimal comfort and fit with a range of impressive benefits. So if you're looking to combine superior design with unbeatable practicality, then look no further than our prescription glasses for big heads.