165mm Refined Gent Big Head Sunglasses fit!
These glasses are a great buy. First, this is probably the only glasses that fit me. Quality is good. I used these on a 2 week trip all around the Philippines. I went swimming with them in the sea and in a pool, and went around the metro area where the frames probably hit the roof of the taxi cab a couple of times. The frames and the lenses held up. My only suggestion is to make the nose portion narrower than 20ml as I had to purchase 2.5mm nose pads. Also, maybe bundle in the hard case for the Refined line as it costs a bit more than the standard. All in all, I am happy with the purchase and it will be my everyday sunglasses.
Ah, a fellow discerning gentleman! It delights me to hear that these spectacles served you splendidly during your Philippine sojourn, bravely weathering the high seas and bustling city life. Your suggestions regarding the nose portion and the bundled case have been duly noted; after all, what's refinement without constant evolution? Here's to many more sunlit days, where your glasses sit perfectly atop your nose, shielding your eyes with elegance. Cheers.
Definitely nice, quality build. Tbh I would have liked an upgraded case realistically at that price point (or even be willing to pay 10-20 more knowing one comes).
Dear Joshua,
Your candid feedback is as refreshing as a spritz of lime on a sunny day! We are glad you appreciate the quality of our sunglasses.
I do say, your yearning for a sturdy case is music to our ears. What good is a fine piece of craftsmanship without a safe abode, right? Our spectacle equivalent of a fortified castle, the Extra Large Hard Sunglasses Case, is available at your disposal. Just follow the yellow brick road: https://fadeddayssunglasses.com/products/hard-sunglasses-case-extra-large.
Your future shades shall rest easy, safe and secure! Thank you for your keen insight, dear connoisseur of quality.
Cheerio, Ben
Literally the widest things on the market
These refined gents exude quality. The acetate frames have great weight and inspire confidence. The shorter lens lends itself a perfect fit for my "Asian" face. I've never tried a pair on that was this wide, it was jarring at first spending well over 20 years with name brand sunglasses that looked child size on me. They are truly 165mm and I would recommend you measure yourself in the mirror to find out if these are it for you. These are worth the price and I look forward to other styles when they are released.
Dear Harry,
Your review is like a breath of fresh air! Much like trading in a tricycle for a Rolls-Royce, I can imagine your delight at finally finding frames wide enough for comfort and style. Quite agree, one size certainly doesn't fit all in the world of spectacles!
Your nod to our frames' hefty confidence-boosting quality and exacting 165mm width warms our hearts like a well-tailored suit on a chilly day. As you've astutely pointed out, a mirror measurement does wonders before eyewear expeditions.
We're thrilled to hear our glasses are worth their weight in gold to you, and can't wait to unveil our future designs. As a sommelier looks forward to new vintages, we look forward to your continued patronage and insightful reviews.
Here's to your next fitting being as comfortable as this one.
Yours with a tip of the hat,
Ben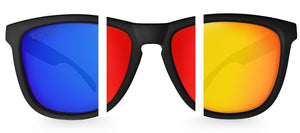 Quality Lenses
Impact-Resistant
All Faded Days sunglasses lenses are made with FDA approved impact-resistant lenses.
Optical Protection
All of our lenses provide full UV400 protection, so that's 100% of all UV-A and UV-B rays, making them the ultimate in protection for your eyes.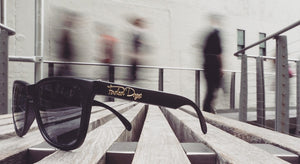 Very, very fast shipping
We don't hang about, our goal is to ship your order within 24 hours (week days) of receiving it. Most days if you order before noon, we will ship your order that very same day. No fulfillment centers, just us because we are independently owned, and that's rare for an eyewear company.