Perfect prescription fit glasses for wider bigger heads love the classic Clark Kent look.
Love the glasses they fit my big Czech head perfectly and the prescription was very good! I can see much better!! My only negative is I wish the frames were a better heavier quality for the prescription glasses, but other than that they are perfect! I will be buying another prescription pair in the future in blue tortoise shell or the brown tortoise frames next time and some sunglasses! Awesome Product for Big Heads Finally!!
Greetings, distinguished beholder of expansive vistas!
It thrills us to know that our XXL Prescription Glasses have channeled your inner Clark Kent. Evidently, our goal is to let you soar through life with crystal clear vision, sans any kryptonite-like hindrances.
Your feedback on the frame's heft is duly noted; it's invaluable insights like these that aid our perpetual pursuit of perfection. Ah, and the blue tortoise shell frames? A splendid choice for a sequel! We anticipate assisting you in your next ocular odyssey.
To clearer skies and impeccable vision!
FINALLY!!! Sunglasses that fit! And they best Ray-Ban any day.
Ah, a triumph in the annals of optical achievement, dear patient! We've cracked the cranial code, and your exclamation-laden joy is the melody to our optometric ears.
Ray-Ban? Nay, Ban! For we've sculpted a spectacle solution tailored to the grandeur of your glorious noggin. Wear them with pride, dear friend, and let the world bask in the radiance of your big-headed brilliance. In the meantime, we'll be here, raising a lens cloth to your satisfaction!
F*kin Amazing quality
I received these prescription glasses a few days ago, and they have quickly become my favorite pair. The 155mm wide frame fits my larger head perfectly. I'm particularly impressed with the high-quality hinges. All in all, I have nothing but positive feedback for these glasses. In fact, I'm contemplating purchasing another pair. #BigHeadsMatter
Ah, esteemed patient, your exuberant endorsement has indeed caught our discerning eye! It's truly a medical marvel to find such a perfect match for your bounteous brow. We here at the Big Headed Optical Institute prescribe nothing but the most robust and refined eyewear. The 155mm wide frame is no ordinary spectacle; it's a celebration of cerebral grandiosity!
Should you contemplate another pair, rest assured, we stand ready to attend to your substantial needs. #BigHeadsMatter indeed, dear friend!
Prescription glasses
First time in my life i've had a pair of glasses that fit. Great company!
It seems we've finally found a solution to your grand cranial circumstance. Here at our prestigious establishment, we believe in embracing the grander things in life, especially when it comes to heads. May your vision be as expansive as your forehead, and may you never squint in the glaring mediocrity of lesser spectacles again.
I like them alot! Glad I finally found a pair of glasses that fit me just right!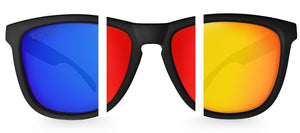 Quality Lenses
Impact-Resistant
All Faded Days sunglasses lenses are made with FDA approved impact-resistant lenses.
Optical Protection
All of our lenses provide full UV400 protection, so that's 100% of all UV-A and UV-B rays, making them the ultimate in protection for your eyes.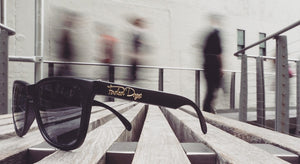 Very, very fast shipping
We don't hang about, our goal is to ship your order within 24 hours (week days) of receiving it. Most days if you order before noon, we will ship your order that very same day. No fulfillment centers, just us because we are independently owned, and that's rare for an eyewear company.
If you've been desperately seeking eyeglass frames for large heads, your search can end with us. Our 165mm wide glasses for big heads are specifically designed for people with large heads, meaning you can now get your prescription eyewear in a pair of frames that will be comfortable for your face, all day long. With our range of glasses for large heads, if you have a wide face, the process of finding wide glasses that fit just became a lot more pain free.

Based upon our best selling XXL sunglasses for big heads, our prescription glasses for big heads make sure nobody with a wider head is left uncatered for. Our prescription glasses for big heads were designed to be the perfect fit for larger head sizes. Not only are they incredibly comfortable, but they look amazing too.

Large heads are no challenge for our 165mm wide glasses. With a frame designed specifically to fit a big face, you'll never have to worry about slipping, inadequate coverage or headaches from tight-fitting temples. And we don't sacrifice style for function either - these XL prescription glasses frames are as stylish as they are functional, making them the ultimate in glasses for big heads.

If you looking for the perfect pair of glasses for large heads, look no further. Our prescription glasses for big heads are designed specifically with large heads in mind, and are available in three different styles. Not only do they offer an optimal level of comfort, but also full protection against UVA/UVB rays - as is standard with all our glasses.

It's well known that for those with bigger heads, finding the perfect pair of glasses for large heads can be a real struggle. That's why we created our prescription glasses for big heads, specifically designed to fit larger head sizes. Measuring in at 165mm wide, these fashionable and functional frames offer 100% UV protection against harmful sunrays and are available as either sunglasses, regular eyeglasses or even reading glasses for big heads, making us certain these are the best glasses for large heads.

We have partnered with a premium quality, US based, independently owned optical lens lab to make the lenses for our prescription glasses for big heads, so you can rest assured the lenses will be made perfectly to your specific prescription.

If you are looking for the perfect pair of men's glasses for big heads, that are comfortable on a large face and provide all the necessary eye protection, we have you covered. Our wide glasses for big heads offer precisely that. These stylish eyeglass frames for large heads have a comfortable and secure fit, plus feature an array of amazing benefits - making them a truly ideal selection. So if you want superior design with unbeatable practicality, then make sure to check out our collection today.